Otosclerosis Treatment
Otosclerosis
Otosclerosis is an abnormal bone growth in the middle ear that causes hearing losshearing loss.
Causes
The cause of otosclerosis is unknown, but there appears to be a hereditary component, meaning it can be passed down through families. In this condition, an abnormal sponge-like bone grows in the middle ear. This growth prevents the ear from vibrating in response to sound waves — which must happen in order for you to hear. This lack of vibration leads to hearing loss that continues to get worse with time.
Otosclerosis is the most frequent cause of middle ear hearing loss in young adults. It affects about 10% of the U.S. population. It is a disorder that gets worse slowly, usually beginning in early to mid- adulthood. It is more common in women than in men. Otosclerosis usually affects both ears.
Otosclerosis can lead to not only conductive hearing loss, but to nerve loss as well.
Risks include pregnancy (which may trigger onset) and a family history of hearing loss. Caucasians are more susceptible than others to otosclerosis.
Symptoms
• Hearing loss
•  Slow hearing loss that continues to get worse
•  Hearing may be better in noisy environments than quiet areas.
• Ringing in the ears (tinnitus)Ringing in the ears (tinnitus)
Exams and Tests
  A hearing test (audiometryaudiometry/audiologyaudiology) may determine the extent of hearing loss. Temporal-bone CT may be used to distinguish otosclerosis from other causes of hearing loss.
Treatment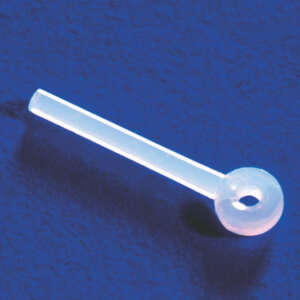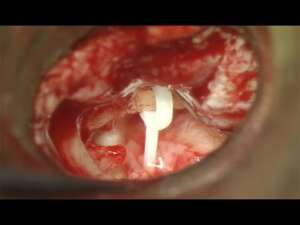 Otosclerosis may slowly get worse. The condition may not require treatment until you having severe hearing problems.
Medications such as oral fluoride, calcium, or vitamin Dvitamin D may help to control the hearing loss, but the benefits have not yet been proved.
A hearing aid may be used to treat the hearing loss. This will not cure or prevent hearing loss from getting worse, but may help relieve some of the symptoms.
Surgery to remove part of the ear (stapes) and replace it with a prosthesisprosthesis can cure the condition. A total replacement is called a stapedectomy. Sometimes a laser is used to make a hole in the stapes to allow placement of the prosthetic device. This is called a stapedotomy.
Outlook (Prognosis)
Otosclerosis gets worse without treatment, but surgery may restore at least partial hearing. Most complications of surgery get better by themselves within a few weeks.
To reduce the risk of complications after surgery:
• Do NOT blow your nose for 1 week after surgery.
• Avoid people with respiratoryrespiratory or other infections.
• Avoid bending, lifting, or straining, which may cause dizziness.dizziness.
• Avoid loud noises or sudden pressure changes such as scuba diving, flying, or driving in the mountains until healed.
If surgery is unsuccessful, total hearing loss may occur. Treatment then involves developing skills to cope with deafnessdeafness, including use of hearing aids and visual cues.
Possible Complications
• Complete deafness
• Infection, dizziness, pain, or blood clotblood clot in the ear after surgery
When to Contact a Medical Professional
Call your health care provider if hearing loss occurs.
Call your health care provider if fever, ear pain, dizziness, or other symptoms develop after surgery.
Hearing Aids
Another choice for hearing loss in Otosclerosis is hearing aids. If you have otosclerosis in one or both of your ears, your doctor may suggest you a hearing aid.
.
KULAKTA KİREÇLENME (OTOSKLEROZ)
Otosklerozda (kireçlenmede) iç kulağın kemik duvarı bozulur ve iç kulak girişinde sünger gibi anormal kemik oluşur. Üzengi kemiği de iç kulağa ses dalgalarını geçirmek için titreşim yapan ufak kemikten etkilenmiş olabilir ve hareket edemez. Bu iletişime bağlı işitme kaybı birbirine bağlı kemikler yoluyla orta kulaktan titreşimleri ileri geçiren mekanizmanın çalışmamasıdır. İletişime bağlı işitme kaybı, düzelebilir. İç kulak sinirlerine bağlı işitme kaybı gibi değildir. O düzeltilemez.
Belirtiler
-Kulaklardan birinde veya her ikisinde ağır ilerleyen işitme kaybı
-Kulak çınlaması.
Genç yetişkinlerde otoskleroz (kireçlenme) en sık görülen orta kulak işitme kaybı nedenidir. Otoskleroz Amerikan nüfusunun yüzde onunu bir dereceye kadar etkiler. Otoskleroz aileden geçer ve erkeklerden daha çok kadınlar arasında yaygındır. Zencilerden, Amerikan yerlilerinden (Kızılderililerden) ve Asyalılardan (sarı derililerden) daha çok beyazlarda görülür.
Belirtiler 15 ila 35 yaşları arasında ortaya çıkar. Bu durum yavaş ilerler ve tek kulağı veya her iki kulağı birden etkiler. İşitme kaybı hafif veya ağır olabilir. Kireçlenmesi olan kadınların işitme kaybı yüzdesi hamilelik sırasında artabilir. Eğer işitme duyunuz gitgide zayıflıyorsa, doktorunuzu görün.
Teşhis
Eğer işitme duyunuzun giderek azaldığını fark ederseniz, doktorunuza başvurun. Doktorunuz kulağınızı muayene edecek, işitme testleri yapacak ve herhangi bir akrabanızda erken işitme kaybı olup olmadığını soracaktır.
Otoskleroz genel sağlığı etkilemez ve çoğu zaman iyileştirilebilir bir hastalıktır. Bununla birlikte, sağırlık duygusal olarak zorlayabilir ve çevreden uzaklaşmaya neden olabilir.
Tedavi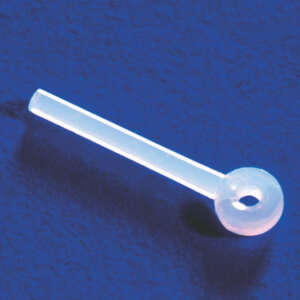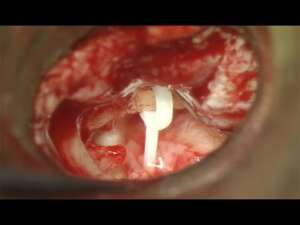 Otoskleroz çoğu kez, stapedektomi denilen bir ameliyatla ki bu ameliyatta, kulak kanalının derisi kesilir ve kulak zarı kaldırılır; böylece üzengi kemiği çıkarılır ve yerine ince bir tel ya da paslanmaz çelikten bir proaaa takılır. Daha sonra kulak zarı eski haline getirilir ve 1-2 hafta içerisinde iyileşme olur. Bazen üzengi kemiğinin tabanında küçük bir delik açmak ve proaaai yerleştirmek için lazer kullanılabilir.
Ameliyattan sonra birkaç saat baş dönmesi olabilir, ancak daha sonra geçer. İşitme yeteneğiniz hızla eski haline gelir ve birkaç hafta içinde normal etkinliklerinize dönebilirsiniz. Ara sıra orta kulakta bir kan pıhtısı oluşarak ses iletimini etkiler. Genellikle bu pıhtı birkaç haftada ortadan kalkar.
Stapedektomi ameliyatı otosklerozlu hastaların çoğunda başarılı olur, ancak her 100 kişiden bir, ikisinde ameliyattan sonra tam bir işitme kaybı olabilir. Bu, ameliyattan önce düşünülmesi gereken bir durumdur. Eğer iki kulağınızda da otoskleroz varsa, önce bir kulağınızdan ameliyat olmanız, sonucu gördükten sonra ikincisini ameliyat ettirmeniz daha uygun olur. Eğer iç kulakta bir hasar varsa, stapedektomi ameliyatı sorunu çözmeyebilir.
İlaç Tedavisi

İlerleyen kemik bozulmalarını ve sünger benzeri kemiklerinn sertleşmesiyle oluşan işitme kaybını önlemek için sodyum fluorid, kalsiyum ve vitamin D tabletleriyle tedavi uygulanır. Ancak ne derece yararlı oldukları konusunda tartışmalar devam etmektedir.
 İşitme Cihazları
 Otoskleroza bağlı işitme kaybını düzeltmenin bir başka yolu da işitme aletleridir. Eğer bir veya her iki kulağınızda da kireçlenme (otoskleroz) varsa, doktorunuz sizi işitme cihazı önerebilir.